Welcome to my stop on the Blog Tour, for Lore! I am very excited to share with you this book!
Synopsis
:
A collection of six folklore retellings that will twist your mind and claim your heart.
SHIMMER: A heartbroken boy rescues a mermaid... but is it too late to save her?
BETWEEN is about a girl, a genie, and a ton of bad decisions.
SUNSET MOON: Eloise doesn't believe in Native American magic--until the dreamcatcher spiders spin her down an unknown path.
THE MAKER: An incapacitated young man bent on revenge builds a creature to do it for him.
A BEAUTIFUL MOURNING: The story of a Maya goddess torn between duty and love, and the ultimate sacrifice she must make to achieve true happiness.
THE BARRICADES: When a human girl risks everything to save the life of an Eternal prince, will their feelings for each other change the world they know, or tear it apart?
The Details:

Authors: Brinda Berry, Cate Dean, Jayne A. Knolls, Karen Y. Bynum, Laura Diamond, Theresa DaLayne
Publication date: March 2014
Genres: Young Adult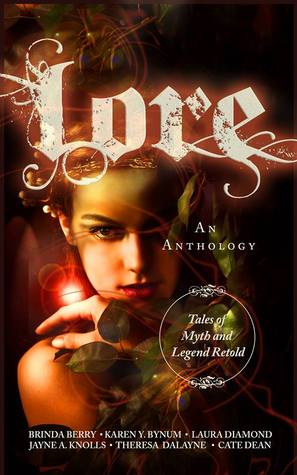 REVIEW
: I am a HUGE fan of mythology, fairy tales, and the retelling of such. With most anthologies, there will be one or possibly more in the collection that just isn't as great as the others. As much as we as readers say we will not judge each short story on each other, when they are brought together, it's nearly impossible to do so.
In saying that, let me forewarn you that it is VERY hard to review each story based on it's own merits. As a whole, this anthology will satisfy your needs. There were enough stories in this collection to make me feel I did not waste my time, which is always a great fear! (There just is NOT enough time in the world to read everything I want to read.) That is one of, if not the greatest thing about collections. You can pick and choose what you are looking for! If you feel a story is not working for you, don't feel guilty to skip it. Not every book will be amazing, and it's silly to expect an anthology to also be a "one size fits all" situation.
Overall, this book gets 4 stars, when I average my ratings for each short story. That's a pretty solid score!
Don't forget to
follow the tour!
Giveaway!
a Rafflecopter giveaway