Miranda Kenneally - Sourcebooks Fire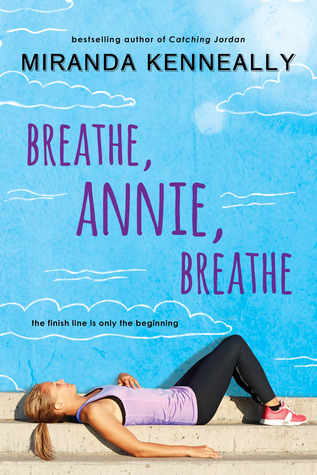 The details: 302 pages, paperback ARC, 2 days to read along munching on jelly beans!

Summary: (From Goodreads)
Annie hates running. No matter how far she jogs, she can't escape the guilt that if she hadn't broken up with Kyle, he might still be alive. So to honor his memory, she starts preparing for the marathon he intended to race.

But the training is even more grueling than Annie could have imagined. Despite her coaching, she's at war with her body, her mind—and her heart. With every mile that athletic Jeremiah cheers her on, she grows more conflicted. She wants to run into his arms…and sprint in the opposite direction. For Annie, opening up to love again may be even more of a challenge than crossing the finish line.
Review: Before I start in on my review of this book, let me just say that Sourcebooks is amazing. I have visited their booth twice now, once at ALA and once at BEA, and they have the sweetest people working for them. Thank you, Sourcebooks! They also handed out super cute tins with jelly beans inside, to go along with the ARC. How adorable!
Now, I first read a Miranda Kenneally book last winter, when I was accepted for Racing Savannah from Netgalley. I was hooked. So when I saw on my scheduler that Miranda would be signing at BEA 2014, I HAD TO GO. This was probably my number 1 must have (along with Rainbow Rowell's Landline...) I wound up towards the back of the line, but I was perfectly ok with that. Her team handed us our copies while we waited, and I was literally already on page 40 by the time we made it to the actual signing.
This book talks a lot about running. The main character is currently training, although she never 'was' a runner. I do not know if I liked the book as much as I did because that's EXACTLY where I am, or not. It sure didn't hurt, that's for sure. ;-) I can tell you that this book if anything, pushed me to run more and train harder for my upcoming 10k. (It's hard to become a runner. It seems everyone IS a runner, and no one besides you are a 'newbie' runner. That's something I really enjoyed about B,A,B is that she is NOT a perfect practiced runner. She understands what I'm going through, and vice-versa.) She understands where I am coming from.
Like all of Miranda's books, this is a YA romance. There is no excplict sex, but there is quite detailed foreplay. This isn't a book I would probably allow in my school library (middle school) but I would keep it behind my desk for those students that I personally know can handle the book/have permission from their parents. (I read my first romance in 7th grade! My mom gave me the book! I was hooked!)
If you like running, YA, Romance, or fluff sweet books, this is the book for you! Trust me, this book hits the sweet spot. Plus, I wouldn't be surprised if you went for a run after! ;-)

Rating: 4 stars
Jenni