Review: Attachments
Rainbow Rowell- Dutton Adult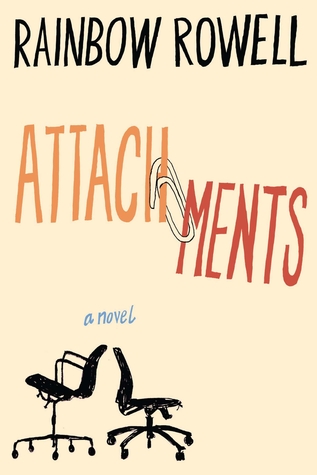 The details: 336 pages, 1 week to read.
Summary: (From Goodreads)
"Hi, I'm the guy who reads your e-mail, and also, I love you . . . "

Beth Fremont and Jennifer Scribner-Snyder know that somebody is monitoring their work e-mail. (Everybody in the newsroom knows. It's company policy.) But they can't quite bring themselves to take it seriously. They go on sending each other endless and endlessly hilarious e-mails, discussing every aspect of their personal lives.

Meanwhile, Lincoln O'Neill can't believe this is his job now- reading other people's e-mail. When he applied to be "internet security officer," he pictured himself building firewalls and crushing hackers- not writing up a report every time a sports reporter forwards a dirty joke.

When Lincoln comes across Beth's and Jennifer's messages, he knows he should turn them in. But he can't help being entertained-and captivated-by their stories.

By the time Lincoln realizes he's falling for Beth, it's way too late to introduce himself.

What would he say . . . ?
Review:
As you can probably tell from my last post, I really enjoy Rainbow Rowell's books. As an author, Rainbow does an excellent job at showing dept within her characters. They are not mary-sue types, and they tend to grow and mature throughout her books. Attachments is not her best work, but I do feel it is still a book worth mentioning.
Attachments caught my attention (other than because of the author) due to the fact it is set around y2k. Sadly, many readers of this book probably do not remember the y2k 'fear' that went around. Personally, my father worked for a large electronic company, so he would only shake his head when y2k was mentioned. He knew it was phooey, but others would not and could not be told otherwise. This seems to be the mindset of our male lead, who is hired to be the company 'snoop' in their new e-mail system.
Ok, can I just say it is creepy thinking about someone READING your e-mails? I work for a school, and while I know certain things are blocked and our internet use IS tracked, the idea of someone physically reading everything just seems creepy. In this book, that leads to our hunk, Lincoln, falling in love with one the e-mail writers.
In this day and age, MANY people say they would love for a man to fall in love blindly. Only knowing what is your truest and deepest 'self.' However, if that were to happen in real life, I don't think many would last beyond the 'get away, stalker!' factor.
With that personal ancedote aside, it's nice to imagine a place where this love story COULD happen. Perhaps there is a cute man who is just beyond your sight, who is deeply and madly in love with you. Not to mention our man Lincoln realizes he is a geeky mama's boy. He himself starts to take care of himself, and grow up. I hate to say it, but I really disliked Lincoln in the beginning of the book. In fact, I didn't start to really enjoy this book until I was 80% done with it!
If you have started this book and never finished, I urge you to give it a try. I also would urge you to pick up Eleanor and Park, no matter how you felt about this book. It should not disappoint you.
*Small spoiler ahead!* *Trigger Warning!*
The biggest problem I had with this book was the fact that one character miscarries her child. I normally steer clear of books with this in it, and I would have liked some warning. I know it's not always feasible to have warnings on books, so I am warning YOU if you need trigger warnings. This one needs one.
Rating: 4. (E & P is my favorite Rainbow Rowell, then Fangirl, and lastly this one.)