Michelle Hodkin- Simon and Schuster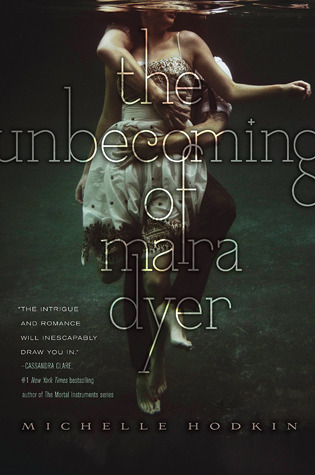 The details: 452 pages, 2 days to read.
Summary: (From Goodreads)
Mara Dyer doesn't think life can get any stranger than waking up in a hospital with no memory of how she got there.

It can.

She believes there must be more to the accident she can't remember that killed her friends and left her mysteriously unharmed.

There is.

She doesn't believe that after everything she's been through, she can fall in love.

She's wrong.
Review:
The Unbecoming of Mara Dyer has been on my TBR pile for every. I would pick it up at the book store and say 'not today' but it was always a 'someday'. There were always bigger and better books, always. However when I saw one of my book club students reading this book, I told her I had been wanting to read it as well. Two days later, that book was in my book return box with the note 'READ ME!'
Well, who am I to turn down a student's request like that?
The book starts out strong, interesting, and moves pretty quickly. Once Mara is introduced and you start to learn of her accident, and the beginnings of her PTSD the book takes a huge jump. Suddenly we are introduced to Noah and a few other characters. It was too quick for my liking. I felt like I missed a chapter somewhere. (Later this is resolved in the book, but for me the damage had been done.) At this point, I started to 'check out' of the book. I disliked the character Noah. I did not enjoy reading about him, or any part that included him. Sadly, the last half of the book he is present. Ugh.
Beyond this one character, the story is interesting. Mara wakes up after an accident that left her friends dead. Soon after she starts having PTSD episodes that leave her seeing things that aren't real. Or are they? Then things that she wishes would happen, do. This is an interesting concept, and Michelle Hodkin did a great job in getting the reader inside Mara's head.
If you can enjoy a story with crappy characters (Noah is controlling, and Mara isn't much better) then give this book a go. If you can't get behind a book with such crappy characters, then steer away.
Review:
The characters are the sole reason this book is at 3.5 stars. This book had potential, but didn't deliver.